by
M.I.K.
Britain's long running comic, 2000 AD, will be celebrating Hallowe'en in style this year with a brand new winter special, which goes on sale on the 29th of October. Here's the promotional blurb…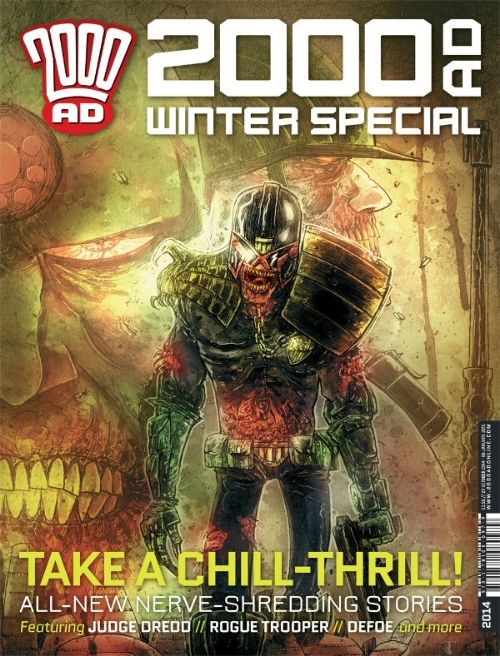 With an exclusive new cover by critically-acclaimed horror artist Ben Templesmith, the 2000AD 2014 Winter Special delves into the darkest recesses of its creators' imaginations for a horror-themed 48-page issue containing complete stories featuring Judge Dredd,  Rogue Trooper, Psi-Judge Anderson, Defoe and the debut of new character The Alienist!
From 17th Century zombie hunters to nightmare horrors on alien worlds, some of the top creators in comics – plus new talent – serve their Thrill-power chilled with a zarjaz line-up, including:
JUDGE DREDD: SOREBONE by T.C. Eglington & Riccardo Burchielli
When members of a juve gang are picked off one by one, has one of its members being possessed by an ancient evil?
DEFOE: FRANKENSTEINER by Pat Mills & Leigh Gallagher
We flashback to 1666 and the start of the zombie epidemic, when Titus Defoe first agreed to take the position of Zombie Hunter General.
ROGUE TROOPER: THE FEAST by Guy Adams & Lee Carter
Genetic Infantryman Rogue Trooper battles through a nightmarish hallucination brought on by exposure to a nerve gas.
ANDERSON, PSI-DIVISION: HORROR COMES TO VELMA DINKLEY by Alan Grant & Darren Douglas
A rash of murders at Velma Dinkley block leads Anderson to suspect someone is influencing the killers.
TERROR TALES: PHANTOM PAINS by Eddie Robson & Jeff Anderson
Not even burning your house down can stop a haunting…
THE ALIENIST by Gordon Rennie, Emma Beeby & Eoin Coveney
England, the early 1900s. Sebastian Witherall and Madelyn Vespertine are investigators into the occult, but who holds the real power…?
The 2000 AD 2014 Winter Special can be pre-ordered now from 2000adonline.com or is available from all good stockists on October 29th!
++ END OF PROMOTIONAL BLURB! ++
Rumour has it that's not the only bit of scary 2000 AD related stuff heading our way this month. Something strangely animated this way comes. Watch this sssspace…
by M.I.K.
2 Comments