by
Ghastly McNasty
Junji Ito is currently Japan's top horror "manga-ka", and, with his "Museum of Terror" series, I had a lot of fun finding out why.
Currently there are three volumes of "Museum of Terror", a reprint in English of his short stories, which also follow the right-to-left reading format. His "Tomie" stories are well-known, and are collected in "Museum of Terror" vols. 1 and 2 as well as being made into movies.
Ito's style is realistic and atmospheric, but strongly Japanese. His stories tend to disturb with grotesque twists, instead of just relying on violence and gross-outs…although there's certainly no absence of gore, either.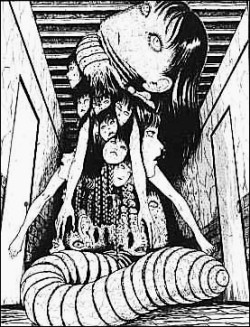 His characters seem to be trapped in a capricious world where there isn't any objective good or evil, only evil consequences. At first glance, I felt bored by the absence of flashy art and the rather simple page layouts, but one plot twist later, and I'd pretty much lost my taste for big-eyed manga pap.
(As a quick digression, I have fond memories of my first contact with his work, which was MoT vol 3. I really didn't know what to expect, except that buying a volume of short horror stories instead of one long story seemed like a good idea with a new manga author. )
So, I was waiting for the train home, listening to some pleasant lounge type music, and reading "Bio House", a story about a powerful old businessman who tries to tempt his pretty young secretary to join him in indulging her more…interesting appetites. So there she is, sitting at the lavish, gruesome dinner table, and casually holding up a refreshing glass of "snake's blood?"… that was when I knew I'd found something…special. After devouring, sorry, enthusiastically reading, the rest of the book, I moved on to read Ito's "Tomie" stories.
Tomie is an eternally young, perfectly beautiful Japanese schoolgirl who drives women mad with envy and men crazy with desire. In fact, they become so obsessed they usually feel the need to dismember her for some reason…but she just won't stay gone. Men, women, children, Tomie destroys the lives of everyone who is unfortunate enough to come across her…
Interestingly enough, the characters meet their doom through their own actions rather than hers. But these tales are not morality plays, because in Tomie's world, it seems that no-one is too innocent or too sane to escape untouched. There is a certain sense of fatalism about these stories.
The variety of the stories comes from the widely different characters who meet Tomie, and the different ways she works on their individual psyches to the inevitable, destructive conclusion. But the violence against Tomie isn't some sad, mysogynist fantasy, because somehow Tomie always seems to win in the end. She regenerates, and propagates, with the inevitability of a virus, and in one story involving jealous brothers, her attempted destruction results in multiple Tomies, once again stalking their way into an unsuspecting world.
It's a fascinating, disturbing look at sexual desire, obsession, and beauty, taken to a very…Japanese…extreme, and I do mean that as a compliment. Japanese horror tends to be more disturbing than our fare over here in the Tame West.
This is some of the best horror manga around…recommended to anyone who likes a true femme fatale…
Recommended 10/10
(The images in this article are from the Tomie stories and are © Junji Ito and Dark Horse Comics.)
by Ghastly McNasty
No Comments Yet
You can be the first to comment!